Chaos in Urayasu
Urayasu ist eigentlich ein netter kleiner Bahnhof, der in der Stoßzeit zwar einen vollen Bahnsteig hat, ansonsten aber vergleichbar ist mit einem Münchner S-Bahnhof etwas außerhalb. Nur natürlich nicht, was die Intervalle angeht, hier fahren die Züge nämlich im 5-7-Minuten-Takt, in der Stoßzeit alle zwei Minuten. Dann folgt ein Zug dem anderen und alle sind zum Bersten voll (und das ist durchaus wörtlich zu nehmen!). Das ist auch nicht verwunderlich, denn laut der Japan Times fahren täglich 3 Millionen Menschen allein mit der Tozai-line.


The New York City Subway carries 4.8 million passengers per day on 26 lines serving 468 stations. In contrast, an estimated 3 million passengers ride every day on Tokyo's Metro Tozai Line, which serves 23 stations.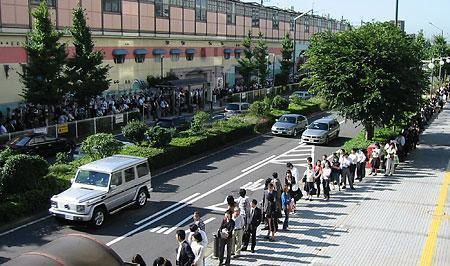 Was passiert nun, wenn eine andere Linie aufgrund eines kleinen Feuers ausfällt und 95 000 Menschen umdisponieren müssen?
Jean-Philippe hat letzten Donnerstag davon zum Glück nichts mitbekommen, da er bereits vorher in die Arbeit gefahren war. Und mir ist es nur aufgefallen, weil während zwei Stunden unablässig mindestens ein bis fünf Hubschrauber über unserem Haus gekreist sind.
Aber ich denke die Fotos und der Artikel sprechen für sich: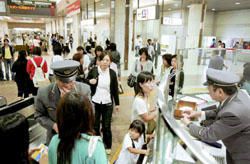 Friday, Sept. 29, 2006
Fire halts JR Keiyo Line for nine hours
Kyodo News
East Japan Railway Co. suspended all operations of its Keiyo Line between central Tokyo and the city of Chiba for nearly nine hours Thursday after a short circuit caused a small fire early in the morning that disrupted operations of a power transformer facility and a signal transmission room at Tokyo Station.
The Chiba branch of JR East said more than 170 train runs between Tokyo and Soga Station in Chiba Prefecture were halted until the operations resumed at 1:10 p.m., affecting some 95,000 people.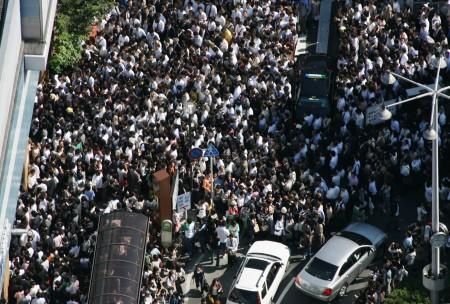 Urayasu Station on the Tozai subway line, located near the Keiyo Line's Shinurayasu Station, overflowed with commuters heading to work or school.
Fire alarms were activated at around 4:20 a.m. at the transformer facility in the second basement floor and the signal transmission room in the first basement of Tokyo Station.
The small fire was quickly extinguished but restoration work was hampered by gas from a fire retardant that filled the transformer facility and the signals room, the company said.
The Japan Times